You can't start going on a vegan binge without having done some research first and doing an all-out-vegan shop! In my first week of being a vegan, I spent the good part of an hour perusing new products on the shelves of the supermarket (some familiar, some totally unknown to me) to see what kinds of vegan-friendly foods were at my local shop. Vegetables are great but I personally couldn't survive on them alone.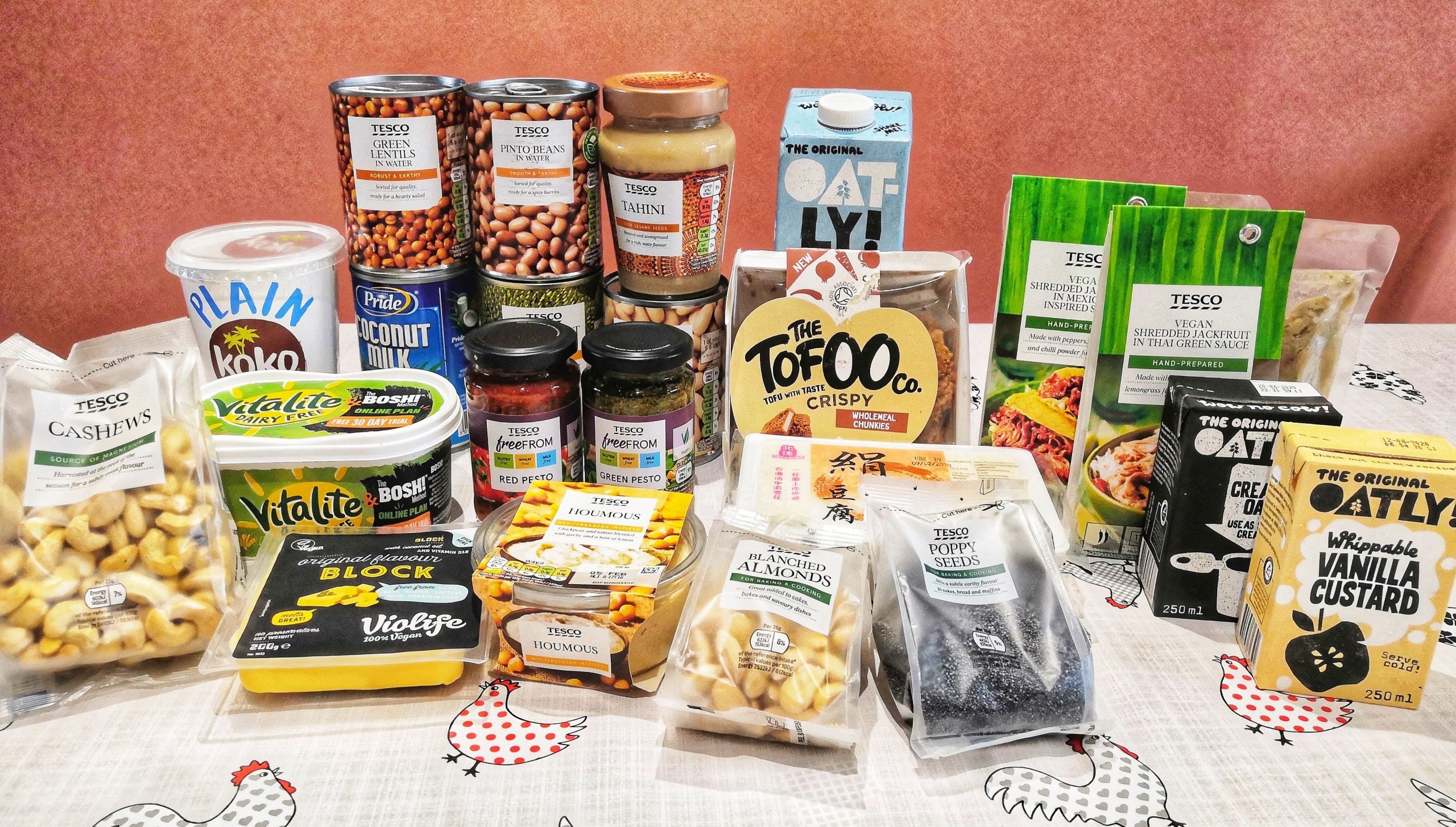 Did you know that animal products are hidden everywhere?
What was most surprising was realising just how many products contain milk, eggs or some other hidden animal-derived product that I was never aware of. For instance, I wanted to buy flatbreads only to find out that there was skimmed milk powder in them! I also couldn't use Worcestershire sauce because it contains fish (anchovies) and fresh pasta was out of question because they are made with eggs. I had to learn to read labels and ingredient lists very carefully.
On the other hand, my partner was thrilled to find out that he would still be able to eat hot cross buns. (Yes, he's one of those humans that eats hot cross buns all year around!) We also discovered that Oreos fit in the vegan category too. Not that we ever eat Oreos usually, but when sweets and biscuits are limited, we'll take whatever we can get!
My vegan meals for the week
For my first week as a vegan, I had a dinner meal planned for every night of the week to make sure I stuck to it and didn't end up eating something non-vegan due to not being prepared. Some of the dinner meals we made during this first week were Kung-Pao crispy tofu, vegan nachos, stir-fry, and Linda McCartney's vegan burgers with sweet potato wedges.
I must say, this week felt so much easier than I ever thought it would be. I had visions of myself grabbing a handful of ham and secretly eating it when no one was looking, or crying myself to sleep because I really missed minced beef in my spaghetti. But to my surprise, there was none of that.
All of the meals were tasty, filling and satisfying. Even grandad had to sit through a vegan meal and didn't seem to mind. To be fair, it was the vegan burger night and the meat-free patties you can get these days are absolutely delicious. We've actually been eating the Linda McCartney vegetarian burgers (they are vegan friendly) for over a year now as we prefer them to the meat patties. (Not a homemade patty, of course, but for a pre-made patty they are so tasty.)
The challenge of a vegan breakfast
I've found breakfast quite hard. I'm not a cereal kind of person and have usually had yoghurt with some müesli and granola, scrambled eggs or a bagel with peanut butter and jam.
Vegan yogurt
Unfortunately, the vegan yoghurt I bought did not fit the bill. I tried it 3 times on separate days to really give it a chance -but no luck. It tasted awful to me, like I image cardboard would taste. Some people absolutely love it but I could not get on with it so that ruled out the yoghurt and muesli option. (I will need to try a different brand and hope that I find one that I like.)
The eggs, of course, were not an option so all I had left was bagels. I didn't feel like eating a bagel with peanut butter and jam every morning so I had to start being a bit more experimental to try to find different things that I liked to start my day off.
Vegan banana pancakes
On the weekend I made banana pancakes (with oat milk instead of cows milk (and I just skipped the egg). I must confess that the first attempt was a big fail! Attempt number two, however, went much better and it was delicious.
The kids didn't agree and found them 'too squishy' so I had to make them a non-vegan batch of their own. In my defence, I made the classic mistake of telling them that mummy had tried making 'new' pancakes today with oat milk…so they knew, THEY KNEW they weren't the usual ones. I bet if I hadn't said anything, they would have happily eaten them and not even noticed!
Do I feel any differently?
Now that it has been a week of not having had any animal products, how do I feel? To be honest, I don't feel any different. Again, I had images of me feeling so light and healthy that I would practically be floating around. Alas, no floating.
Instead of floating, I have been bloating – which would help me float in water, I suppose. I blame it on all the soy products that have become part of my staple diet. I hope my body will adjust to the new things I'm eating or it's going to be a gassy month!
Summary
Going vegan is off to a great start. I'm feeling positive, I'm feeling inspired and I'm liking the food so far! Breakfast still needs work but I've got time to figure it out. The challenge I need to keep facing is the fact that my four-year-old twins are not vegan. I didn't feel it was fair to make them go vegan against their own will. (It's hard enough finding stuff that they actually want to eat. If we take away chicken and fish fingers, I think they would actually go on a hunger strike!!) Even though I may not be 'floating', I'm not struggling either and to me, that's a pleasant surprise!
Bring on week two!
Love, Martina