It's time to LIBERATE yourself from the overwhelm so you can live in your FULL POTENTIAL and THRIVE with more time and energy for the things that matter most!
Tired of feeling completely overwhelmed in life?
Are you fed up of feeling exhausted, emotionally drained, stuck and like you're just living in survival mode?

You're simply unable to find time to relax, unwind and actually do the things that you really want to be spending your time doing.

You even find yourself doubting your choices, having too many thoughts, feelings, responsibilities, making it almost impossible to actually find joy in your day-to-day life.

To put it simply – does your life feel totally out of balance?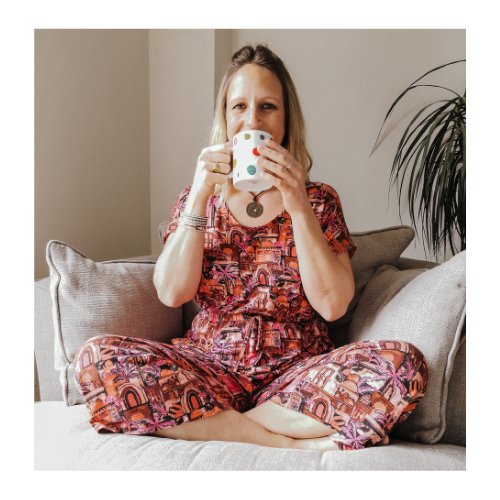 There's nothing more frustrating than constantly feeling frustrated (ironic, right?) with all the things life keeps throwing at you.
I know how you feel!
You're trying to balance being a good mum, going to work or running your own business, keeping up a household, all while trying to squeeze in a sliver of social life and fun. It turns out you just don't have enough time and energy to do it all! And I'd be willing to bet it's the fun and the things you actually WANT to do in life that take the hit because you're just too busy to do it all.
I hear you.
I understand exactly how you feel.
Your mind is unsettled and filled to the brim with mental overload but you're unsure what to do about it.
Emotional overwhelm has become the norm.
Self-doubt and disorganisation make you feel frustrated and overwhelmed.
Your physical world doesn't work WITH you but feels like it's working AGAINST you.
There seems to never be enough time for the things you actually WANT in life.
Time is taken up doing things for other people and you don't make YOU a priority.
Fun and ease are not main ingredients in your world right now.
Your confidence has somehow disappeared over time.
You know there is so much more to life than you are currently experiencing.
You can't seem to get off the never-ending hamster wheel of life.
Plain and simply, life feels too busy, too hard, unfulfilling and you feel stuck – all while running on empty.
Does this sound familiar?
---
Hi, I'm Martina and a few years ago I felt exactly like this.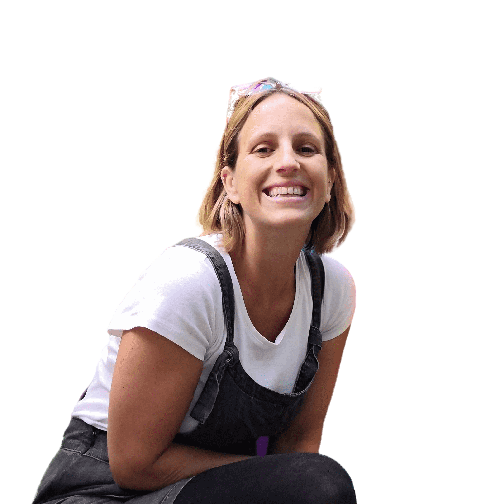 I had twins in 2015 which, as you can imagine, spiralled me into a world of overwhelm! But, if I'm really honest with myself, the overwhelm and lost sense of control and direction started even before that.

For years I went through the motions of life but there was no passion, no fulfilment. My days felt busy, my time was taken up with the never-ending list of to-dos and on top of it all, the clutter in my home was causing me real frustration and annoyance. Why did everything feel so hard?
Being a working mum while trying to feel fulfilled and confident, and keep up a sense of calm and ease, I started to feel like I was failing my family as well as myself. I just couldn't find a way to get off the fast-spinning hamster wheel. It just kept turning and turning and I felt like I had no choice but to keep up in order to survive the day. I felt so stuck.
Of course I loved my children and couldn't think of anything more magical than becoming a mum…but in the process of keeping up with life, I lost my sense of self. I lost my sense of direction, sense of confidence and a vision of what it was that I wanted out of life.
My mind was a mess! I had so many negative thoughts and beliefs about myself that were wedged in between a mind already filled with responsibilities.
I was so emotional and would be overcome by frustration, sadness, guilt. I was an emotional wreck, to say the least!
I had no time for ME. All my time seemed to be used up by doing things for other people – my children, my partner, the house, my job. That left virtually no time for any of the things that I could only dream of doing.
I was completely exhausted and life felt totally out of balance. And quite simply, I was not enjoying my life.
When I stopped to think about it, I realised I wasn't enjoying it because I felt like I had no time, no space and no mental capacity for anything fun. For anything truly meaningful beyond what I thought other people expected from me.
Life was overwhelming and not fun.
I needed a mental and energetic declutter so that I could feel myself again. So that I could embody the HIGEST VERSION of myself. I needed more time. More energy.

I needed to build my life back up around my values and what truly mattered to me instead of just going doing what others expected of me.

I needed to be something more than just a mum, employee and partner.
I needed ME back.
My self-discovery journey began here when I delved deep into overcoming overwhelm and self-doubt in life and had many coaches to help me work my way through the mental and energetic clutter that I had stored up that just needed to be released!

And the transformation was life-changing.

From feeling fully confident, knowing my full worth, embodying my full potential and actually having time and energy for the things I loved were only some of the changes I experienced.

First I became certified in Neuro-Linguistic Programming (NLP), Time Line Therapy and Reiki. But I wasn't done yet.
I studied further and became certified in hypnotherapy after I had seen the life-changing effects of working on a sub-conscious level can have.

I was going UP and there was no way I was going DOWN again.
I did a lot of inner healing and reflecting in order to fix my problems at the root source and overcome the overwhelm.
Once I had decluttered my mind and my emotions, my energy completely shifted and my life transformed into more ease and flow.
I finally got to have my life reflect who I really was and not just the 'roles' I was taking on.
And guess what? I'm IN LOVE with my life now!
I actually have time for things now that I didn't even have time to daydream about before!
I'm not saying my life is perfect because, let's be real, who even knows what perfect is? But what I DO KNOW is that life feels easy. It feels enjoyable. It's filled with fun, passion and purpose.
It's filled with authenticity.
I have emotional control and feel so balanced.
Life doesn't feel overwhelming anymore. When I'm busy, I'm busy doing the things I love. The things that make me happy. The things I CHOOSE to spend my time on. 
I'm a mum to twins, a supportive partner, a teacher, a coach and hypnotherapist having built my own business, I'm continually learning and growing…and yet I'm not overwhelmed.
The key to my happiness was simply this: I decluttered my mind of what wasn't serving me anymore and filled it with empowerment, confidence, gratitude and joy!
---
Just imagine…
Living your life with ease and flow.
Having harmony and balance be part of your everyday.
Having more time and energy for the things you love.
Feeling in control of your emotions.
Having a strong and supportive mindset.
Feeling confident in who you are and what you are worth.
Accountability to help you make the changes you've always wanted to make in life.
Being clear on your values and boundaries so that your life reflects what is important to you.
Releasing thoughts and beliefs that have been holding you back in life.
A life that is filled with what YOU want.
Complete connection with your unlimited power and your full potential.
A life where you LOVE being YOU everyday…and it feels easy!
You tried…
…watching every YouTube video you could find about finding the balance in life.
…reading every self-help book in hopes of finding the 'secret' to a life you love.
…doing yoga, meditation, practicing mindfulness but it didn't do the trick.
…going to therapy but got tired of having to talk about and relive all the negative parts of your past.
…working with other coaches or taking other programs but the results were short-lived or you didn't quite feel as good as you hoped to.
You even tried going on a holiday to 'reset' that feeling of burn-out only to discover that it was right there, patiently waiting for you when you got back home.
Overwhelm and life burn-out don't have to be the 'norm' in life.
We seem to have adopted this idea that life has to be hard. That life is meant to be tough. That it's the challenge that builds character. That busy means living.
Just think of some of the famous sayings and quotes you might have heard…
'Growing up sucks.'
'Life is tough and then you die.'
'A busy life is a good life.'
'Work hard, play hard.'
All of these clichés and sayings all allude to the fact that life has to be hard. That if it's not hard, you're not doing it right.
But I'm here to tell you that this is BS. Life does not have to be hard. Life does not have to be overwhelming. Life doesn't have to suck!
But this won't happen overnight.
To build a life that you truly enjoy and a life that feels easier, you need to let go of the things that are no longer serving you.
And this doesn't mean you have to quit your job. Or have your children and spouse move out! Or you have to spend your days eating only raw fruits and vegetables and meditating until you reach enlightenment.
No.
What you need is the right support, guidance and accountability.
What you need is the right tools to help you overcome overwhelm and become your BEST self.
What you need is more time and energy to do the things you love in life!
Introducing…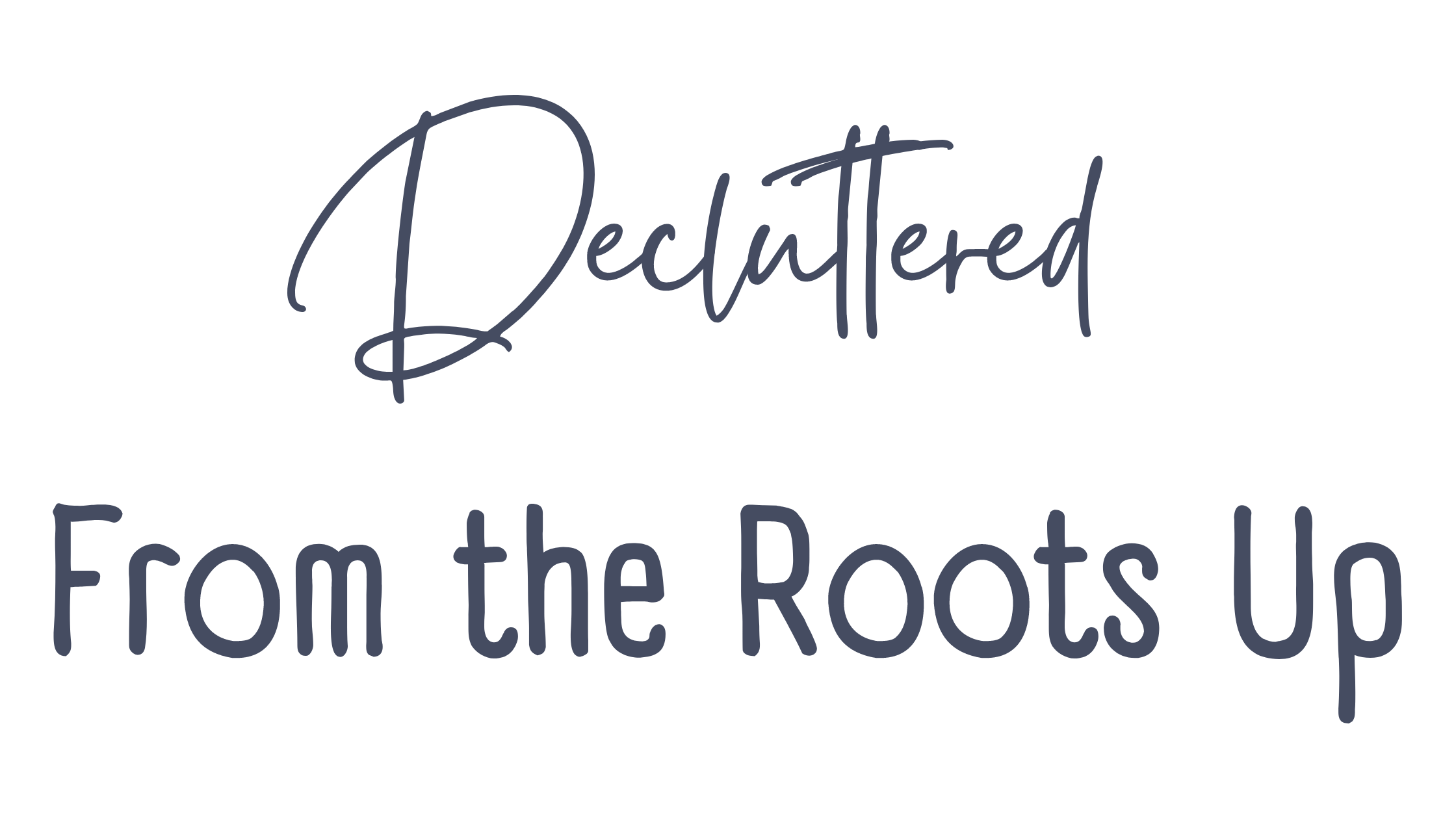 The online group program for women who are ready to ditch life's clutter and overwhelm and claim back their time, space and peace of mind!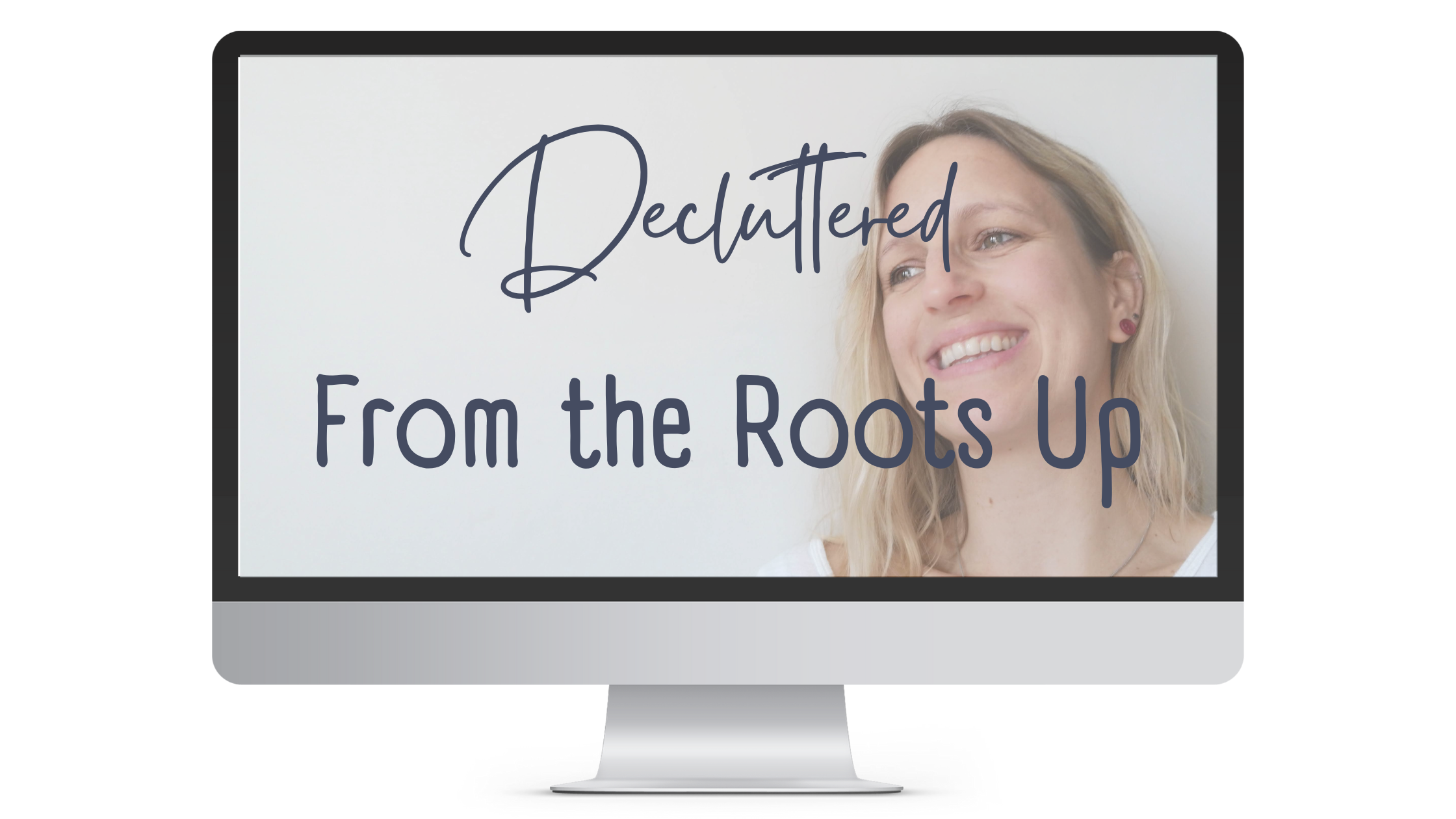 Features
In the program you'll discover…
3 modules focused on MIND, TIME and SPACE (and all of them link to energetics!)
12 weeks of fully supported guidance and coaching from me, Martina Jay, certified NLP and Time Line Therapy practitioner (and soon to be hypnotherapist!)
12 additional weeks of community support in our private Facebook group at the end of the program to keep you accountable and supported during your physical decluttering period
Weekly on-line session/content presentations to explain the week's focus and tasks
Weekly Q&A and coaching sessions so support you along your journey and create that transformation
Live 'Celebrate, Clear and Desire' sessions to share our progress and clear any blocks
Supporting documents and workbooks to help guide you along your decluttering journey each week (for you to keep forever to revisit whenever you need!)
Access to a private Facebook group for community & support throughout the whole 24 weeks
Accountability partner program to help you stay accountable to making the progress you want and deserve
My signature Unclutter Nutter method ™ to get your life simplified and in harmony with your desires.
One hell of a dedicated coach (if I do say so myself!) that can't wait to see you transform your life!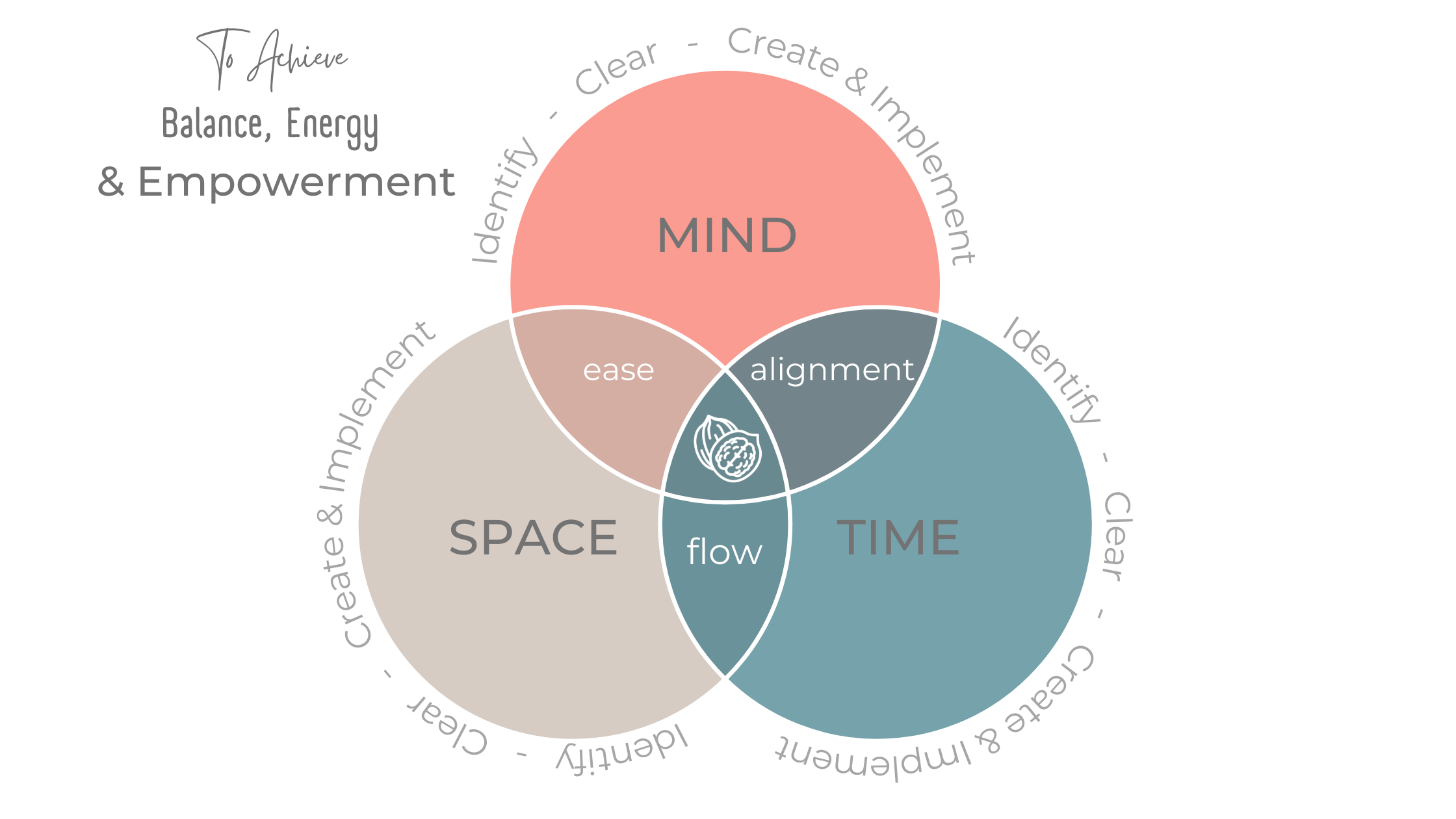 MIND
In order to fight the mental clutter and overwhelm you feel, you need to identify the root of the problem that is causing the stress. You will get clear on your true values and goals as well as identify your fears and what is stopping you from living with ease and flow. Then you clear out that sh*t you no longer need! Using effective strategies and techniques, you'll detach from your old and outdated unconscious beliefs to make space for the real YOU! And once you have that mental space back, it's time to rewrite your story and your new empowering beliefs. Along with creating new strategies and habits, you'll start to set goals like it's nobody's business and watch as you achieve them.
TIME
In order to have more time for the things that truly matter to you, you need to first identify what's REALLY taking up your time. You'll go through your day-to-day life with a fine-tooth comb to get crystal clear on the root problem and where your time is actually not being utilised in a way that is aligned with your desires. Then you'll start weeding out the time-sapping culprits of life through effective processes and strategies as you start freeing up more of your time (and mind!) and begin to feel the incredible benefits of having control of your time back.
SPACE
You've done the inner work. Now the time has come to face the elephant in the room – the clutter and disorganisation! How does the space around you affect you? How would you like it to be instead? You'll start to dig into the past and present and get to the root cause of your frustration. And most importantly, you'll find your WHY! As you roll your sleeves up, you'll immerse yourself in the decluttering process – guided and supported, of course – and start to see that space around you open up as you release your emotional attachment to things and feel the effects that a decluttered space can have on your life! And when the clutter is dealt with, it's time to put systems into place and organise! This is the fun bit because you get to learn about and work with your own organisational style and start to create a space that supports you, that allows you to live with ease and flow in your home. You'll form new habits and your household can get on board to making everyone's life simpler and clutter free!
EMOTIONS & ENERGETICS
As the backbone to the whole process, you'll be observing your emotions and how they go from feeling overwhelming to feeling calmer, more at ease and within your control. This is a game changer!
But we know the real value of any program is not just in what you physically get. The REAL value is the benefits and the transformation you experience!
Benefits
As a member of the program, you'll benefit from…
✔ Knowing your WHY and your deeper purpose for decluttering your life
✔ Finally being able to deal with the root cause of your overwhelm and work through it at the source
✔ Having more peace of mind and not spending your days just 'treading water'
✔ Getting clarity on your true values in life and how to set boundaries that respect them
✔ Replacing your old, outdated and limiting story with a new, authentic and aligned story that will allow you to get more out of life
Having a decluttered and more organised home that works for YOU
Being able to create a space that works WITH you and your personal organising style
Learning how to create simple yet effective systems that keep the clutter away
A deep dive into habits that are getting in the way of you living a decluttered life in order to create new, more supportive and helpful habits and routines to save you time, energy and mental stress
Having more control over your emotions so that they stop being all-consuming
Being able to feel more at ease and in flow and have life work FOR you rather than against you
Learning valuable techniques to help you manage your time and feel more efficient and organised
Being surrounded by other like-minded women that are there to support one another and keep you accountable for making the changes that you have been wanting in life
Starting to create a life that is simply more enjoyable and filled with joy (and all the other things you WANT it filled with)
---
What past clients have been saying about working with me…
Dear Martina, I just wanted to take the time to write and let you know how amazingly transformative I found the time line therapy session you gave me. Sadness is an emotion that has featured a lot in my life recently, but the crippling and overwhelming feelings of that emotion was causing me problems in my present day. It's now been over a month since our session, and although I've had some events where it has been sad, I feel totally different! It no longer becomes a dark cloud but instead I connect only with past learnings from sad events, leaving me able to get on with my life feeling a general lightness and peace which is totally new to me. I feel in control and empowered and I cannot thank you enough. I can't believe it took just one session to feel like this!
L.B. – Parenting Coach
Martina is a great coach and I deeply valued the time she spent with me and the progress eh helped me make in changing my life. I would not have been able to be that far along an achieve my goals without her support. Martina helped me to push forward and leave the past behind me. She is a wonderful listener and it's so easy to talk to her and open p with my problems. From the first session on she helped me establishing realistic goals. I highly recommend Martina to everyone whoo needs help. Thank you Martina.
C.J. – Retired mum of 2
I had a fantastic mindset session with Martina. She gave me confidence from the beginning, listened to what I needed and provided me with some amazing tools to turn my mindset around. It is a work in progress but now I have the tools to make powerful, lasting change. Thank you Martina
S.T. – Veterinarian

Decluttered From the Roots Up is for you if you…
✔ are tired of feeling overwhelmed in life
✔ want more time, space and mental ease in your day-to-day life but you're unsure how to get there
✔ identify with being a high-achieving woman that wants to feel empowered and supported
✔ are ready to clear old stories and beliefs that have been keeping you stuck for too long
✔ long for a more supportive and calmer mind
✔ want your time back so you can actually spend it on the things that truly matter to you
✔ need a toolkit of effective time management strategies and guidance on how to implement them in your life
✔ want to turn your home into a space that feels calm and supportive
✔ wish to create systems and organisational strategies that let you feel at ease and save you time and energy for the long run!
✔ crave less clutter, period!
✔ are committed to taking action and are ready to show up as yourself and be held accountable for making the changes you want in life
✔ know you are ready to create the mindset, space and time that you deserve
✔ want a decluttered life!
And probably not for you if you…
✖ haven't made the decision to let go of what is holding you back
✖ want to continue feeling overwhelmed and stuck in life
✖ aren't ready to experience a positive transformation in your life
✖ don't want support, guidance and accountability and want to do it all on your own
✖ want to keep hold of your clutter and continue to allow it take up your space, time and energy
✖ expect someone to do the work for you
✖ aren't willing to get to the root of the problem and are happy to keep dealing with the 'surface level' inconveniences
✖ want to keep feeling too busy to do the things you truly want to be doing
✖ don't want more time with loved ones or more time for your hobbies and passions
✖ aren't ready to commit your time, energy and resources to get results. Your results will be a reflection of the effort you put into the process. Unless you want your life to continue to feel cluttered and overwhelming, you will need to show up for yourself.
So what's the investment, you ask?
Here is the part you've probably been scrolling down to find! But make sure you read all of the above because it will tell you what you REALLY want to know. What you're going to get from signing up to Decluttered From the Roots Up. And it's WAY MORE than just a decluttered home.
If you were to do all the work that this group program offers with a coach 1-to-1, that would mean hiring a mindset/NLP coach, a decluttering and organising mentor and a time management coach. And this would cost you THOUSANDS!
With a group program, I am able to offer all my clients the same personal support and consistent guidance but without the heavy price tag! And you get the support and accountability of a supportive community of women who are on a similar journey as you.
The investment to take part in this unique 12-week transformational group coaching program is £888 paid in full (or 3 monthly instalments of £298).
~ The Early Bird Bonus ~
I love a woman who is an action-taker and knows what she wants!
(Especially if what she wants is a decluttered life!!)
For the first 3 women who sign up to Decluttered From the Roots Up, you will also get a 60 minute private 1-to-1 session with me where we'll use some powerful techniques to help skyrocket your transformation.
Once you have signed up to the course, if you are one of the first 3 action takers to sign-up, you'll be notified of this incredible bonus!
And in case this helps to motivate you to take action, this is the cheapest this course will ever be! For any future launch dates, the prices will increase so if you want to declutter your life for the lowest price possible, the time is NOW.
(And I say that not as a pushy sales tactic but to give you full transparency so you don't feel disappointed later.)
Still sitting on the fence and undecided if this course is for you?
Let me tell you what's different about Decluttered From the Roots Up compared to other decluttering programs…
This program doesn't just focus on just decluttering the space around you and how to organise your home. We go deep into the root of the problem – WHY your clutter is forming in the first place (and no, it's not just your kids or your spouse!) – so that you can solve the problem from the source.
Decluttered From the Roots Up declutters your MIND along with your space and time which is critical in getting rid of that overwhelm that's been following you around in life. Decluttering your space alone won't do the job.
My program is packed full of support, guidance and useful resources – without the fluff! We don't have time for fluff because, after all, we're making MORE time rather than taking up more!
I give you LIVE support and not just on-line videos and resources. You will have a real certified coach at your disposal throughout the whole program to help you with your transformation. (A coach that actually wants you to get the results you want for yourself!)
This program focuses on decluttering your ENTIRE LIFE and not just your home. If your overwhelm is coming from multiple sources, this course will help you find the source so you can work through it and make it a thing of the past.
Have you made it this far but still have questions?
Let's see if I can answer them here!
FAQ
When does the program start?
The group coaching program starts on Monday September 26th and runs for 12 weeks as a guided group coaching program and then you get 12 additional weeks in the private (and supported) Facebook community as you continue your decluttering journey (because, as you know, decluttering your life doesn't happen overnight!)
When are the live coaching calls held?
The first LIVE session will be held on Monday 26th September to introduce the program and get you started. (This can be watched live or on replay if you can't make it.) We will then have a weekly live Q&A and support coaching session on Thursday or Friday. We will decide as a group which time slots work best for everyone depending on people's timezones.
Do you offer refunds if I change my mind?
I know how it feels to invest in yourself. You get that panic that you've just spent a sh*t load of money on yourself and you feel guilty and maybe even scared that you've just wasted it all! Well, not on this program. If you put in the work, you will get the results you want and life will feel so much better. For this reason, I don't offer refunds because I stand behind the value that is on offer in this program and I know that if you do the work, you will see the transformation and would never even think of asking for a refund. If you feel stuck, you can always get in touch with me and we can see how we can make it work for you.

(The only way you won't get results is if you don't take any action and don't do the work.)
Are results guaranteed?
I have a feeling you know what I'm going to say here. Results are never guaranteed, in pretty much anything in life. Even when a product says it, it's usually not 100% true. What IS true is that your results will be a reflection of the work and the action you take within the program and in life. You can learn everything there is to learn in life but if you never DO anything with that knowledge, nothing will ever change. You will have full support and lots of resources and tools that will guide you to the results you want. It's a matter of you implementing them and making that choice that you're going ALL IN on making your life as simple, easy and decluttered as you've been dreaming of.

I will be there every step of the way to support you and hold you accountable for taking action – but if you choose not to do the work, I can't force you to do it. (But you and I know that this won't happen because you know how much you want a decluttered life!)
What are your qualifications?
I am a certified NLP (Neuro-Linguistic Programming) practitioner and coach, a certified Time Line Therapy practitioner, a certified Reiki Level II practitioner and a qualified teacher of 10+ years experience. I'm also currently studying for my diploma in Hypnotherapy so you are in good hands. I haven't just pulled this program out of a magic hat. There is a lot of work, research and learning that has gone into it.
While there are qualifications as a 'professional organiser' I believe that to be a good organiser and declutter expert, this comes from first hand experience. I am PASSIONATE about decluttering and organising and have spent most of my life organising the physical spaces around me to make them more functional and supportive for what the space was intended for. It's my personal knowledge, experience and insights that I bring to the table when it comes to decluttering your space. And boy do I find that exciting!!
Is there a payment plan available?
Yep! You can pay 3 monthly instalments if you prefer not to pay the full fee up front. So easy peasy!
How much time do I need to dedicate to this program?
This is a slightly more complicated question to answer. And this is why.
The course itself will take around 3.5 hours a week. Approx. 2 hours for the weekly calls and content presentations. Then at least 1.5 hours for putting in the work and taking action on the tasks each week. You may very well wish to spend more time on this as the more action you take, the more of a transformation you will see! The deeper you go, the more powerful the results will be!
During the 12-weeks of the guided course, you will start to see and experience the results and you will feel your life transforming (for the better!). But your journey will continue after that as you will most likely want to revisit the content, do some more work on it and continue to implement new strategies and systems into your life as you make it more streamlined and simple.
And during the 3rd module on decluttering your SPACE, the physical decluttering process will take more time depending on how much physical clutter you have in your life. This is why you have 12 more weeks of support in the private Facebook Group as you continue to declutter your space. You won't need to have it all sorted and completed by the 12th week. Your decluttering journey can continue for as long as you want or need…and I recommend continuing it for the rest of your life!
What if I'm not sure if I can keep up with the course?
I get it. We all have things that show up unexpectedly in life and get in the way. I recommend you read the answer to the previous question as this will answer a lot of things. But the most important thing to know is that each week I will be talking about a part of my decluttering process and giving you insights, tasks and instructions as you learn new things about yourself. You will be given tools, techniques and resources that you can always access at a later date so don't worry if you're not completing everything on time. Do still come for the live sessions or watch them on replay so that you are getting the most out of the coaching support from me in the 12 weeks. You will have the rest of your life to continue to work through the process BUT don't rely on that as the accountability element in the group is what will keep you motivated and get you to do the work! (And if we all did the work on our own without support, we'd have done it already.)

Don't worry. I'll be your cheerleader all along the way.
Will this course be running again?
At the moment, I'm planning on running the course again in mid 2023 – but this is not guaranteed as the structure of the course might have changed by then depending on people's needs and my life schedule. (So if you want to declutter your life, the safest bet is to join the program in September to avoid possible disappointment.) And one thing is for sure…the next time this course runs, the price will increase so this is the cheapest it will ever be.
Can I do this on my own?
Of course you can. I did. But it took me YEARS and a lot of frustration. If you wanted to do it on your own (and knew what to do), I have a feeling you would have already done so. You're here because you want that support, that guidance and that accountability that a coach and a supportive community give you in a group program. And don't put it off until next month or next year. The time is now. It's time to declutter life and get the most out of it. Don't you agree?
Now let me ask YOU a question…
If not now, when?
The time is NOW to declutter your life. The more time you spend it feeling overwhelmed, the more of your time, energy, and headspace is being wasted. And you're done with that. You're ready to declutter your life from the roots up and begin to start living your life the way YOU want to live it.
A life with more time for family, friends, travel or leisure.
A life with more space, more ease and flow in the physical space around you.
A life with more organisation and systems that help support you and keep life working for you.
A life with more positive beliefs, values and emotions that keep you feeling empowered and motivated to reach all the goals you've set for yourself.
A life that is more simple, more decluttered so that you can fill it with the things that truly matter to you.
What is it costing you to have a cluttered life? What are you giving up?

Time is limited. Make the most of it.
If you have questions that haven't been answered and want to chat about whether this program is for you, click the link below to book a clarity call. We'll chat about you, what you need and see if Decluttered From the Roots Up is a good fit for you.
No pressure. Just clarity.
I hope to see you in the program!